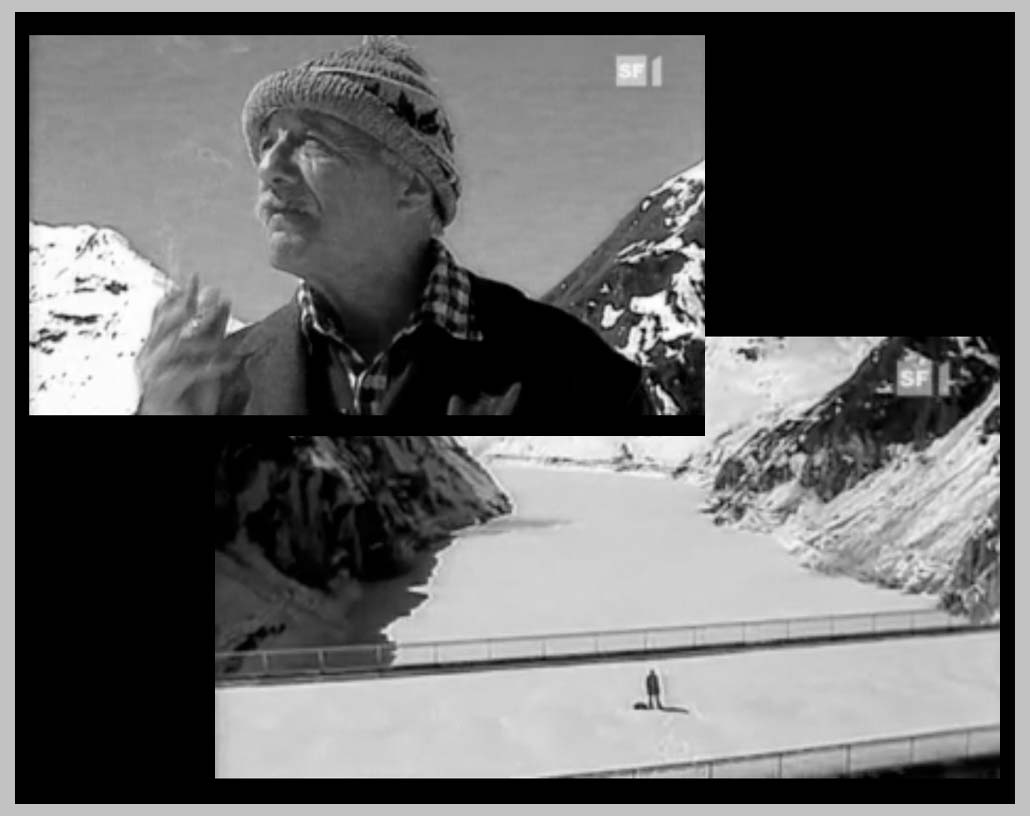 The Swiss poet, Maurice Chappaz, standing on the Grande Dixence Dam.
Until 1980, the Grande Dixence was highest dam in the world at 285 meters high,
695 meters wide at the crest, and weighing in at 6,000,000 cubic meters of solid
concrete; it holds back what is still the largest reservoir in the Alps, with its
401,000,000 m. capacity. Completed in 1961, at the height of the world-wide
mega-dam-building craze.

[The above two photos and the quotation used of an epigraph in the long-line Sonnet
featured below, are all borrowed from an excellent segment in a recent
program on Swiss television, "Kulturplatz 21.1.09 / Schweizer Fernsehen"]
On the road in the American Northwest.



THE VAGABOND OF THE GRANDE
DIXENCE

—an appreciation

pour Maurice Chappaz (1916 - 2009)

"At the end of a writer's life, I think I can say
that it is much harder to make a poem,
than to bore a tunnel."



There he stands on the dam he helped to build,
Defiant voice of the river that no longer flows,
Spirit caretaker of the eternal snows,
Witness of a great valley's slow, but steady decline.

Gone are the meadows, gone are the shepherd's huts,
Gone are the silent ways of the alpine winter.
The stars of Orion no longer guide us
To the chamois' retreat, to the slopes of the rusty rose:—

All fade in the bright lights of rented Chalets,
In the endless highways of Sugarsnow.
Swish goes the scythe of the Banker in Touristland,

Whetted on the bent backs of mountain farmers.
"Tout fini," he cries, his words fracturing
In crystals of frozen ice, a rainbow avalanche of light.





| download VAGABOND mp3 |



II.28.2009,
Thompson Meadow,
Eagle Cap Wilderness






---


All Photographs & texts by Cliff Crego © 2011 picture-poems.com
(created: III.4.2009)