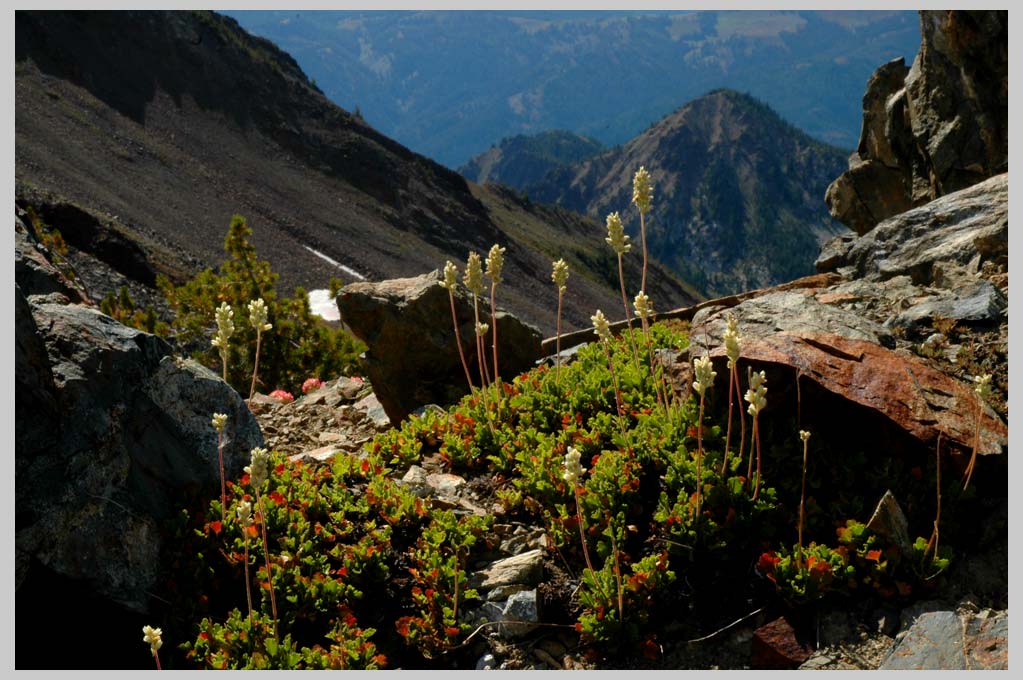 Alpine Ensemble w/ Roundleaf Alumroot (Heuchera cylindrica), [ click photo for next . . . ]
at Bowhunter Pass, view West,
(VIII.25.08) Eagle Cap Wilderness


This is rugged, pathless land in the center of the high South
Wallowas. I like to call this crossing Bowhunter Pass for
the shape of the ridgeline when seen from a distance.

To come upon such a well-established little roch garden
at this altitude—about 2500 m.—in country that's only
snow-free but two or three months of the year, is, for
me, always something of a miracle.

The root meaning of our word, Art, coming from the Latin,
ars, is 'to fit.' Something made to fit. So we can see
in a high alpine niche (or 'nest') such as the one
pictured here, a wonderful ensemble of 'fitting together.'

Notice how growth, other than the flowering petioles
standing erect to the sun, stays tightly clusterd, and
close to the ground. A good way to deal with wind,
intensely dessicating summer heat, and the frosts of
night-time cold!

On the road in the Northwest of America.

ALPINE GEOMETRY

Horizontal lines of water,

vertical lines of trees,


everything else f r a c t a l s

in between.




FAR AWAY FROM HOME . . .



A radio plays in the empty kitchen.

Wind-eyes, opening to the West.

A gaze, motionless, longing for distance;

In the background, a keyboard's thin,
electric sound, its bass firmly
rooted in the past, but higher, five fingers
feeling nervously about, far away from home.

A gold ring, stuck on water-soaked hands,
rolls out that evening through a crack in the door.

At night, in thought's house, a question
walks from street to street, alone.

It asks,

"Which way,
to the river,
to the other side?"

But no one seems to know.

There isn't a bridge.

There isn't even any water about.

And so, even the richest of sounds
is so easily lost, finding no echo, no
willing ears, no smooth surface upon
which to spread its waves.




[ from FIREWEED POEMS ]






| download FAR AWAY FROM HOME [8.3 MB]
MUSIC in the coda is from my THE MAGIC BOX,
the solo marimba piece, NIGHT PHANTOM score pdf |














All Photographs & texts by Cliff Crego © 1999 -2012 picture-poems.com
(created: XI.21.2010)