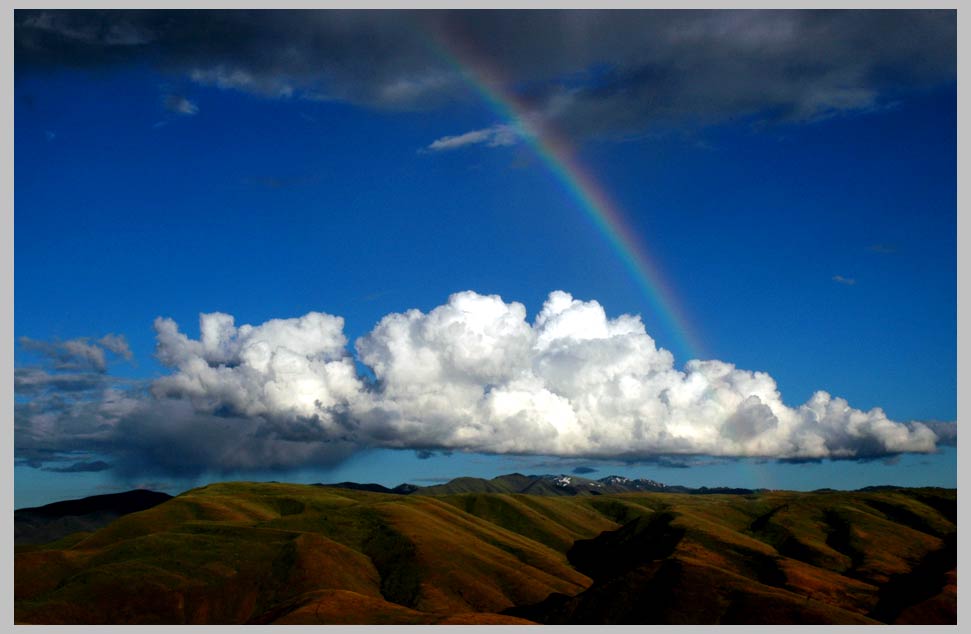 Rainbow Over Eagle Valley . . .
On the road in the American Northwest.

Flowers are to the background green

of meadow and forest what a well-made poem

is to the constant chatter of sounds which

surrounds us. How strikingly beautiful they

are, these centers where essences converge.






PILGRIMS




Not

yet

far

from

home

the

full

bus

drives

straight

across

the spring

with healing waters

without

a

name.

THE SPRING


The cowherd pointed

on the map and said,

"If you can find it,
you must visit this spring.
The water there is very mysterious."

"Years ago, they wanted to sell it,
but it burst the bottles—
every time."



THE WELL


At the village center

a woman fetches water

from a well.

She tells me,


"All my life
the flow of this water
has never changed.

"It was constant during the war
and when my sons did not return,
and it was constant during the time
they built the road and then the dam.

"Even during the Winter of '51
it did not freeze.

"But last Spring,
for the first time in my life,
it was silent of seven days
and then ran muddy for
weeks after that.

"This well
never did that
before."



(The Alps,
from ON PATHS)

Please visit my picture-poems.com LIVING WATER
print gallery. Above is a set recent images.
(Mouseover controls.)

I might just mention here, following the ethical principle,
First, do no harm, I never use cars or snowmachine. I
do everything on foot, bike or ski. I think this in a
deep and direct way affects my work, and how I see
the world. So all the photos above were approached
on foot, including all the in between spaces, sometimes
involving journeys of weeks or months.

I would not want to work any other way.



All Photographs & texts by Cliff Crego © 2011 picture-poems.com
(created: VI.1.2008)