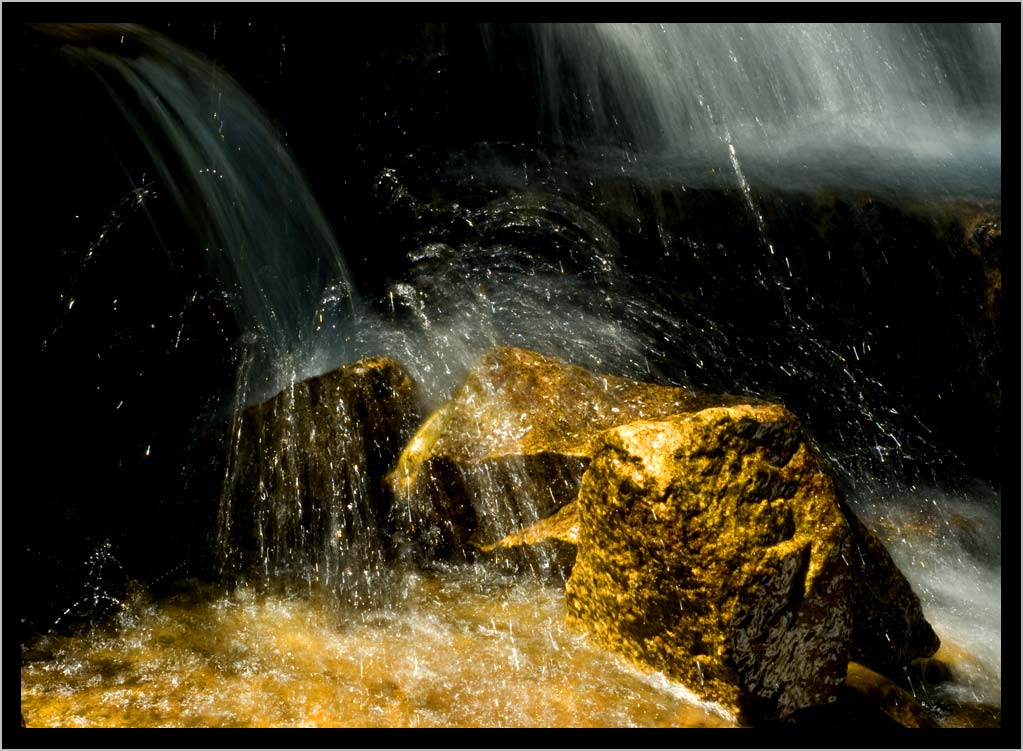 Polyphonic Flowforms, DIPPER FALLS, Eagle Cap Wilderness, [click photo for next . . . ]


WATER & RILKE:—form as movement

The photograph above, POLYPHONIC FLOWFORMS, is to my
way of thinking, very closely related to the Rilke
masterpiece featured below. Especially when we liberate
ourselves from mere static visual perception so dominant
in the current era, and begin to hear and see form as
rhythm and movement. As I like to say: Form emerges
out of movement; it is the outward envelope of the
rhythmic pulse of change. Listen closely to the
remarkable unity of sense and sound, pointing powerfully,
I feel, to a new way of doing and thinking about poetry.



On the road in the American Northwest.








IMAGINARY LIFE JOURNEY—a late poem from
the German by Rainer Maria Rilke



First a childhood, limitless and without
renunciation or goals. O unselfconscious joy.
Then suddenly terror, barriers, schools, drudgery,
and collapse into temptation and loss.

Defiance. The one bent becomes the bender,
and thrusts upon others that which he suffered.
Loved, feared, rescuer, fighter, winner
and conqueror, blow by blow.

And then alone in cold, light, open space,
yet still deep within the mature erected form,
a gasping for the clear air of the first one, the old one . . .

Then God leaps out from behind his hiding place.


                           (Schöneck, September 13, 1923)

Rainer Maria Rilke (tr. Cliff Crego)





Imaginärer Lebenslauf



Erst eine Kindheit, grenzenlos und ohne
Verzicht und Ziel. O unbewußte Lust.
Auf einmal Schrecken, Schranke, Schule, Frohne
und Absturtz in Versuchung und Verlust.

Trotz. Der Gebogene wird selber Bieger
und rächt an anderen, daß er erlag.
Geliebt, gefürchtet, Retter, Ringer, Sieger
und Überwinder, Schlag auf Schlag.

Und dann allein im Weiten, Leichten, Kalten.
Doch tief in der errichteten Gestalt
ein Atemholen nach dem Ersten, Alten . . .

Da stürzte Gott aus seinem Hinterhalt.



| download mp3 Imaginary Life Journey /
Imaginärer Lebenslauf [3.9 Mb] |







Please visit my picture-poems.com MOUNTAIN WATER
Gallery. (Mouse-over controls.)

I might just mention here, following the simple ethical principle,
First, do no harm, I never use cars or snowmachines.
I do everything on foot, bike or ski. I think this in a
deep and direct way affects my work, and how I see
the world. So all the photos in this collection were approached
on foot—including all the in between spaces—sometimes
involving journeys of weeks or months.

I would not want to work any other way.






order

RILKE IN THE WALLOWAS


for $49.95 + shipping or

download as

e-Book

for $14.95


New English translations
from the German of 80
of Rainer Maria Rilke's
best poems, together
with 120 color prints
from the High Wallowas.
With introduction . . .


|
| preview opens in new window |

| about RILKE IN THE WALLOWAS |











All Photographs & texts by Cliff Crego © 1998-2014 picture-poems.com
(created: VIII.8.2011)