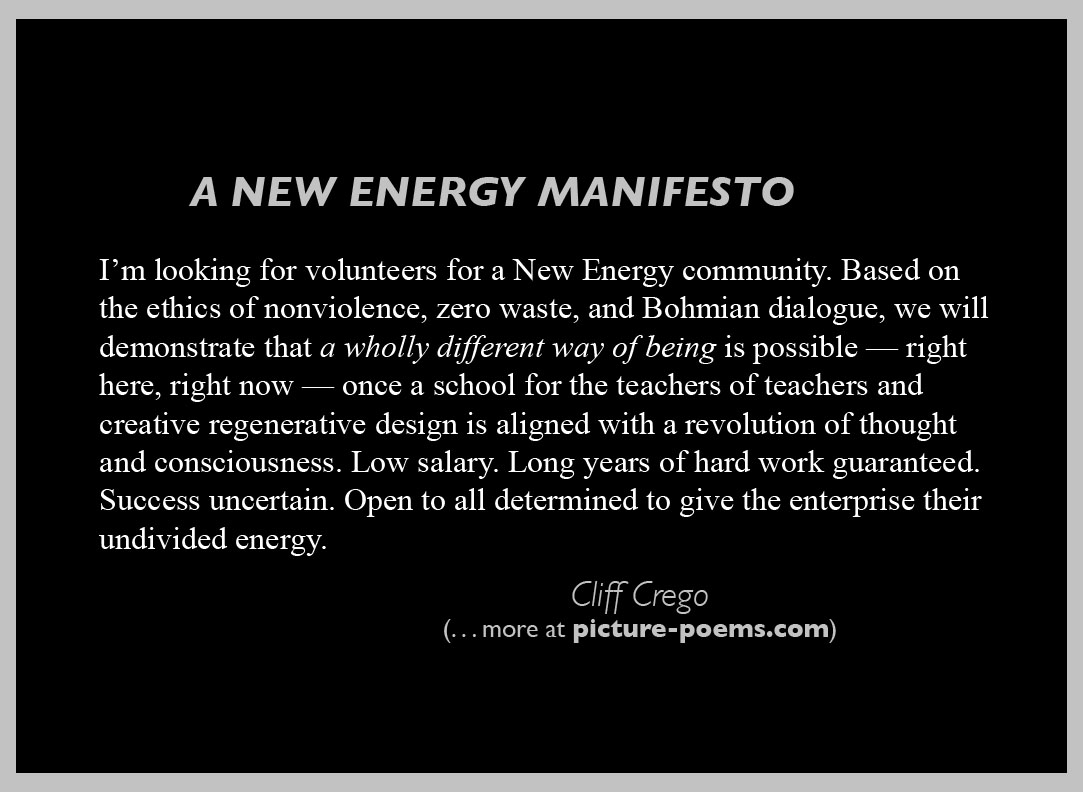 Modeled after the famous Shackelton advertisement for his 1907
NIMROD expedition to the South Pole, I think of starting of a
NEW ENERGY community much like an adventure into
the pathless land of the wild unknown. And, if you think of it,
people who deeply share such intentions are usually not together
in the same space. And those who are, usually don't really share
mmuch at all. Bringing energy together for change means, I feel
strongly, that this must change. XII.29.2015
[ click photo for next . . . / download above Poster pdf ] 
Winter in North America.











SIMPLICITY / COMPLEXITY CYCLE


Where the climax of complexity comes we

can never know for sure, but natural movement

always begins and ends with simplicity.

Draw a circle

which is not

surrounded by emptiness;

Speak a word

which does not

emerge from and return

to nothing at all.




ON NECESSITY & THE GIFT OF CHANCE are part
of THE LITTLE CLAVIER please preview 150 of 631 pages
w/ my black & white photography [opens in new window]












Featured gallery, 100 MINIATURES, a set of 100 black & white photographs. ONE image. ONE idea. ONE new way of looking . . .

100 MINIATURES—online gallery



Each miniature is a kind of meditation on

one idea & one image

;

Each lasts

30 seconds

; They play in

random

order;

The music is my

BOREA Mix

,

for hand-played ePecussion Orchestra

.

[ mouse over for controls /

lower right fro full-screen

]









All Photographs & texts by Cliff Crego © 1998-2015 picture-poems.com
(created: XII.29.2015)