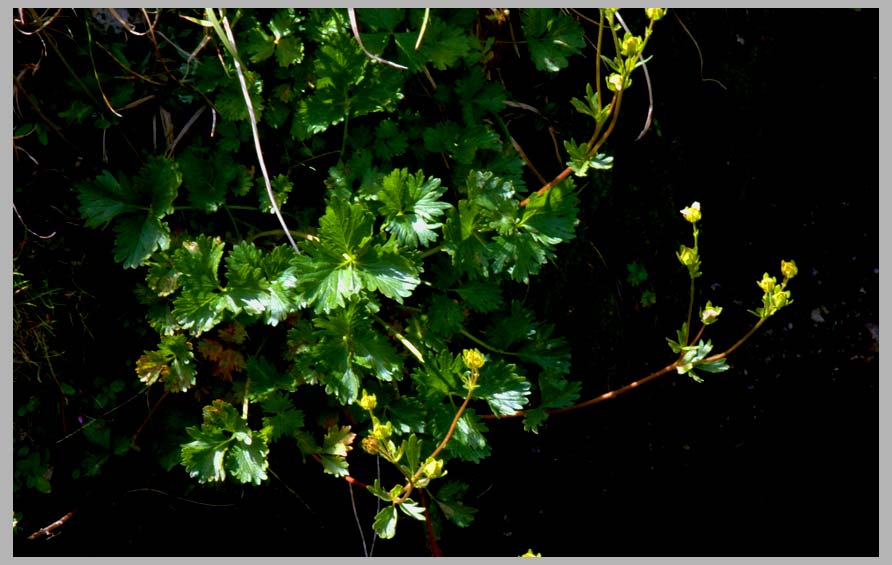 Fan-leaf Cinquefoil, leaf shape, September aspect at 2200 m. (Potentilla flabellifolia)
Member of the Rose family, similar in aspect and habit to
European Lady's Mantel; mat forming.


FAN-LEAF CINQUEFOIL (Potentilla flabellifolia)

Seen as emerging out movement, the beautiful form
of this Cinquefoil's fan-shaped leaves is like a
round water drop, a drop which then ripples
rhythmically along its edges. What a wonderful
variation of this Rose family member's normal
palmate, or handlike, aspect! It grows along small
streams (as pictured above), moist meadows, and
at the edges of bogs.

Eagle Cap Wilderness . . .

MOVE OVER— new compositions

Please preview (left) 13 new

tracks at

AMAZON

DOWNLOAD the

entire album

for $7.99

features my soundpoems,
percussion orchestras & other
new pieces

Join me in my campaign to bring the conservation of Nature
and the best of classical music together. The sonosphere—the
sea of sounds which surrounds—deserves as much attention and
care as our water and air!



---



All Photographs & texts by Cliff Crego © 2011 picture-poems.com
(created: X.11.2008)