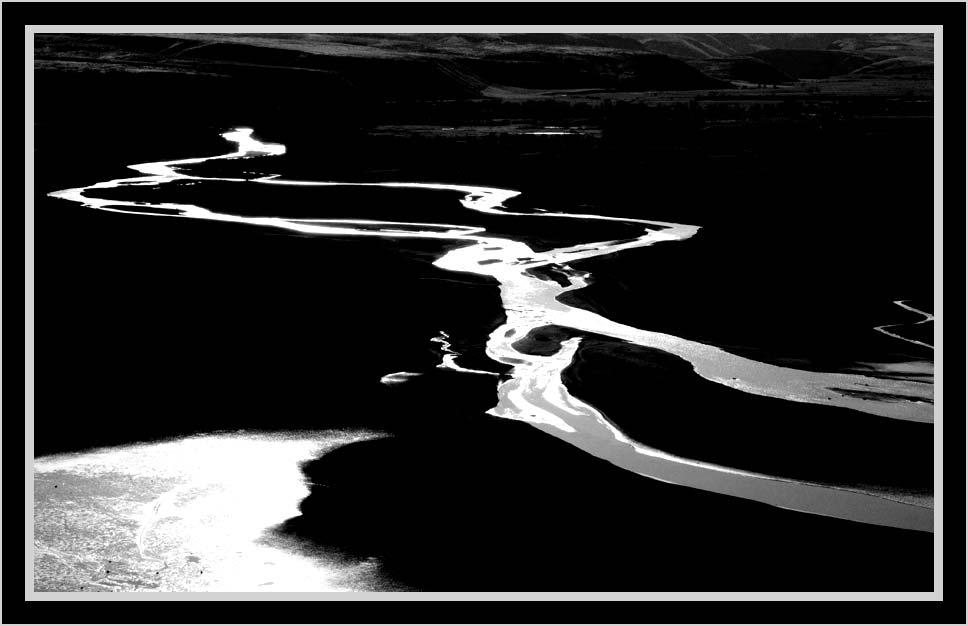 (MUTED) POWDER, Eagle Valley [ click photo for next / BUY photo online ]
Northeast Oregon . . .


THE WATERCOURSE WAY: The image above is of
the Powder River made just a few days ago, April
the 3rd, 2012. Notice that the water level is so
low that the original valley floor is now visible.
Given half a chance, the river moves instantly to
reorganize itself into new channels, what I think
of as flowforms. A wonderful thing happens when we
shift our thinking from "things," to "movement." As
things, a river and a poem do not have much in common.
But as movement, however, they potentially share a
very great deal. In the natural back and forth
between poem and river, we begin to see the river as
a living, breathing being, and we give new attention
to poems not so much as letters on a page, but rather
the rhythmic flow of sounds we hear.

On the road in the Northwest of America.

FORM

emerges out of movement;

It is the outward envelope

of the rhythmic pulse

of change.






TWO LITTLE POEMS WHICH SHARE
THE SAME FLOWFORM . . .



The Dance of Chance

A toss
of the dice...

The machine has no problem with
randomness,
abstracting order from chaos,
whole songs computed at will. But
the beauty of the butterfly's wings?
Just blind permutations, the in-
determinate
survival, selection, of small

dotted poems

in a
sequenced array, or
the sure sign

of the
open road, the future's pathless

land

unprecedented
possibilities

a l l ?



Tramontane

Bits of
labor, left

behind, tasks now foreign to straight
speaking tongues.
Closed doors reluctantly open
as that which is unfamiliar
is brought
into the outside within....
The necessary work
of inessential people, guests

held

hostage,
a ransom
s e l f - paid, the

outlandish
price of membership to these strange

worlds

of
aliens

a l l.





[ from FIREWEED POEMS ]






| download DANCE OF CHANCE & TRAMONTANE [2.9 MB]















All Photographs & texts by Cliff Crego © 1999 -2012 picture-poems.com
(created: IV.7.2012)