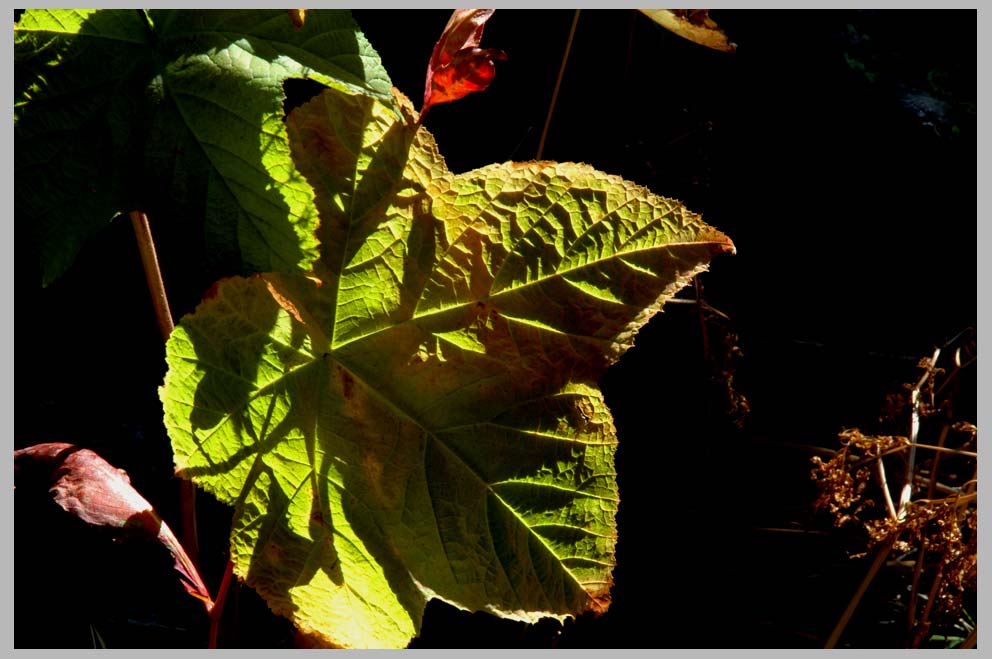 Thimbleberry Leaf, October aspect, (Rubus parviflorus, member of the Rose family)
Eagle Cap Wilderness. On the road in the Northwest of America.


LEAVES



A single maple leaf

falls upon my page,

marking the passage

of this most liminal of seasons.

Sharp north wind

rising high above the sound

of cold rushing water,

scattering yesterday's hopes

of where I'd be today, and today's

thoughts of where I'd

be tomorrow.





CONSERVATION

Conservation is a way of dealing with Nature's fundamental
asymmetry: that growth is slow, and destruction fast.



CULTURE OF CHAIRS?

The first person to come up with a chair had back-pain.
Then he gave it to the rest of us!



MUSIC?

Music? The one thing humans do that makes
the rest of Nature jealous.





Broken Bridge Camp,
Eagle Cap Wilderness,
Oregon, X.29.2008





CULTURE OF CHAIRS & MUSIC
are part of
THE LITTLE CLAVIER please preview 150 of 631 pages
w/ my black & white photography [opens in new window]
Let me know what you think!















---





All Photographs & texts by Cliff Crego © 1999-2011 picture-poems.com
(created: VII.27.2008)