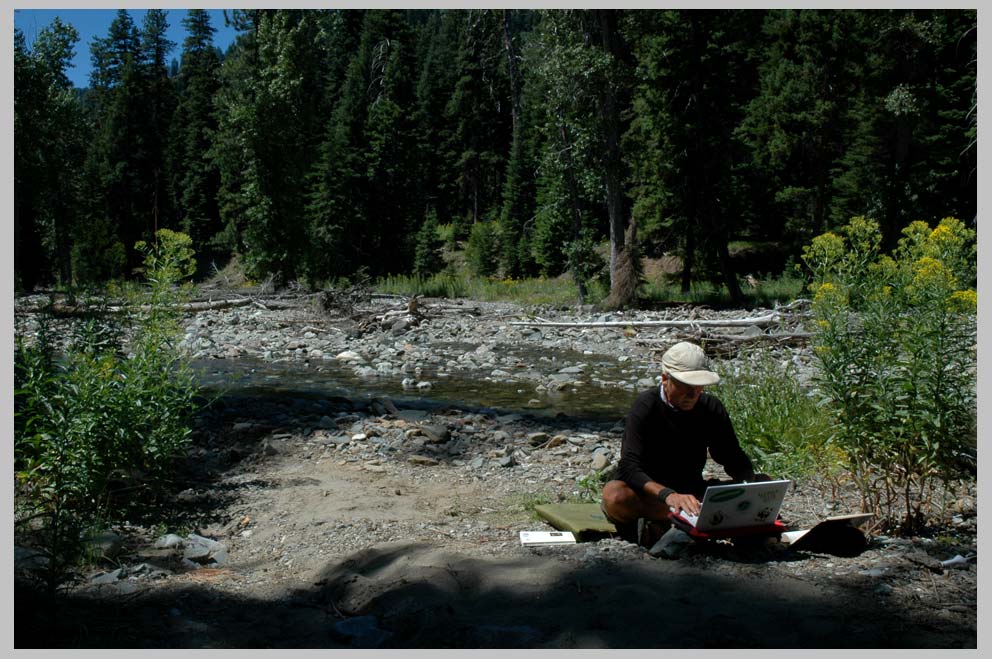 Streamside Fieldwork, East Eagle Valley, [ click photo for next . . . ]
South Wallowas . . .







Here, I'm working alongside the East Fork of Eagle Creek,
at one of my lower summer basecamps, just below 5000 feet
or so. I pack out of the roadless Eagle Cap Wilderness
area, process texts and photos, then bike out about 50 k
to either Richland or Halfway, or a longer rider of 80 k
to Baker City, all along the old gravel stagecoach gold
route.

Access to the South Wallowas is much more demanding than
to the North near Joseph or Enterprise. At the same time,
there is much less traffic of any kind here, whether hiker,
horseback riders, or motorized vehicles. I've never
once seen anyone else on a bike, and that despite the
fact that the area is ring-wormed with old logging and
mining roads that make for excellent
mountain biking.

On the road in the American Northwest. [click photo for next . . .]






Please visit my picture-poems.com ArtPrint Shop . . .

Larger prints from the best labs in the US & Europe, framed & matted
or pure & simple in a selection of sizes
Featured gallery, mountain water . . . .
If you're a picture-poems fan, please visit my Living Water Gallery—some of
the best of my flowform photography w/ a selection of the highest quality
prints & frames . . . [ mouse over for controls / lower right fro full-screen ]

---


All Photographs & texts by Cliff Crego © 2011 picture-poems.com
(created: XI.19.2008)