Special edition picture-poems.com Photobooks . . .


"Dollar Store" image + backside text picture-poems.com Postcards . . .
Order 1 for under $1; order 100 for just $65 . . .

---


Five-Dollar Store images & texts from picture-poems.com
as folded CliffCards . . . Order 1 + envelope for $4.95




Order one of the popular picture-poems.com calendars for 2012 . . .

---

The picture-poems.com ArtPrint Shop . . .
Larger prints from the best labs in the US & Europe, framed & matted
or pure & simple in a selection of sizes




Please visit my picture-poems.com MOUNTAIN WATER
print gallery. Above is a set of 37 recent images.
(Mouseover controls.)

I might just mention here, following the ethical principle,
First, do no harm, I never use cars or snowmachines. I
do everything on foot, bike or ski. I think this in a
deep and direct way affects my work, and how I see
the world. So all the photos above were approached
on foot, including all the in between spaces, sometimes
involving journeys of weeks or months.

I would not want to work any other way.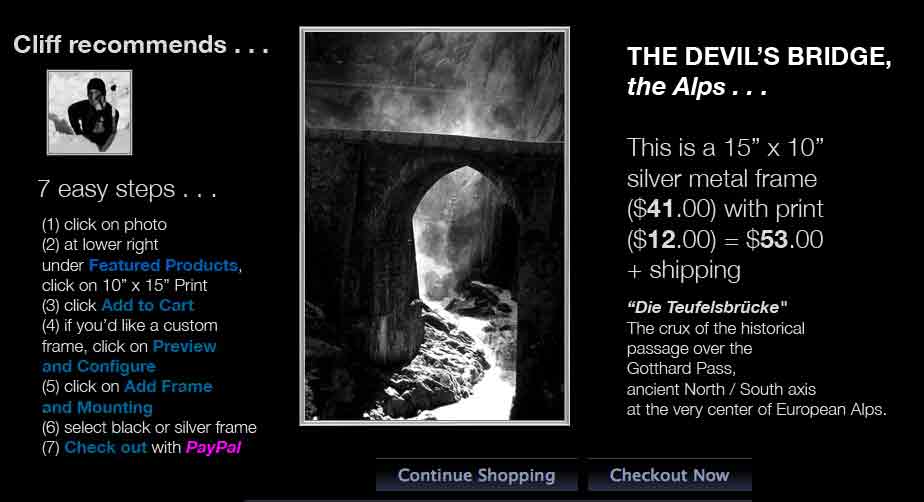 ---
New scores from my cs-music.com OCTET PROJECT . . .
Impress your friends with one of these beautiful, perfectly square, high-contrast,
glossy musical performance scores, from $12.00 to under $29.00








---
Order my music on traditional CDs or as MP3 downloads . . .