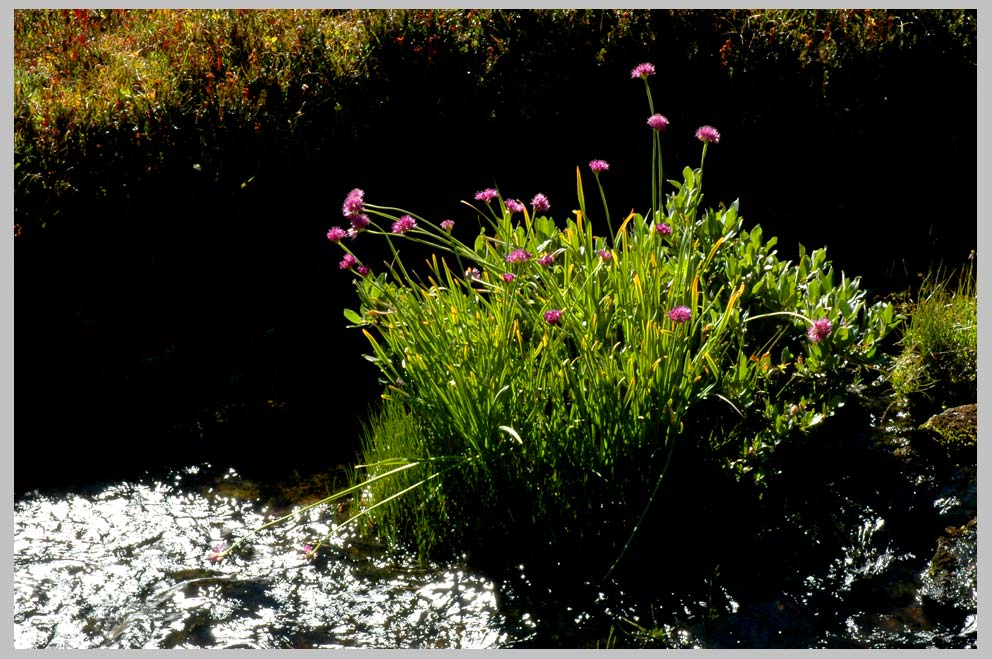 Tall Bog Onions at Holly Brook (Allium validum),
highly edible & most prized by the members of
the Lewis & Clark Corps of Discovery,
Eagle Cap Wilderness . . .










THIS DIFFERENCE OF BUT A HALF A STEP



Bright Father Sun on light granite,

a major key ascending

beyond the highest peaks,

beyond the most distant stars.


A cloud passes by with misty rain . . .


And instantly, all changes to shades of

gray, of wet, dark, volcanic rock,

a minor key descending

with roots to the middle

of the Earth.


The happy, and the melancholy,

two sides of but one movement . . .

How could I ever choose?


O gods of this audible landscape,

forgive us that we no longer sing,

that we no longer ponder,

this difference of but a half a step.


O Mystery of Creation!

My Lyre of Peace! Be forever tuned

and tempered to both.





Muir Lake,
Eagle Cap Wilderness,
Oregon, IX.12.2008

| download mp3

THIS DIFFERENCE OF BUT HALF A STEP |



| download pdf of score of my harp music featured,

THE LITTLE TRIANGLE

|

The avian soloist featured above is the

Old World Blackbird (Turdus merula)

,

related to the NA

Swainson, Hermit

&

Spirit Thrushes,

and

the European musican of musicans.





| mouse over for controls / lower right for full-screen view |

| download

mp3

of performance model |

Join me in my campaign to bring the conservation of Nature
and the best of classical music together. The sonosphere—the
sea of sounds which surrounds—deserves as much attention and
care as our water and air!



---

All Photographs & texts by Cliff Crego © 2011 picture-poems.com
(created: X.11.2008)