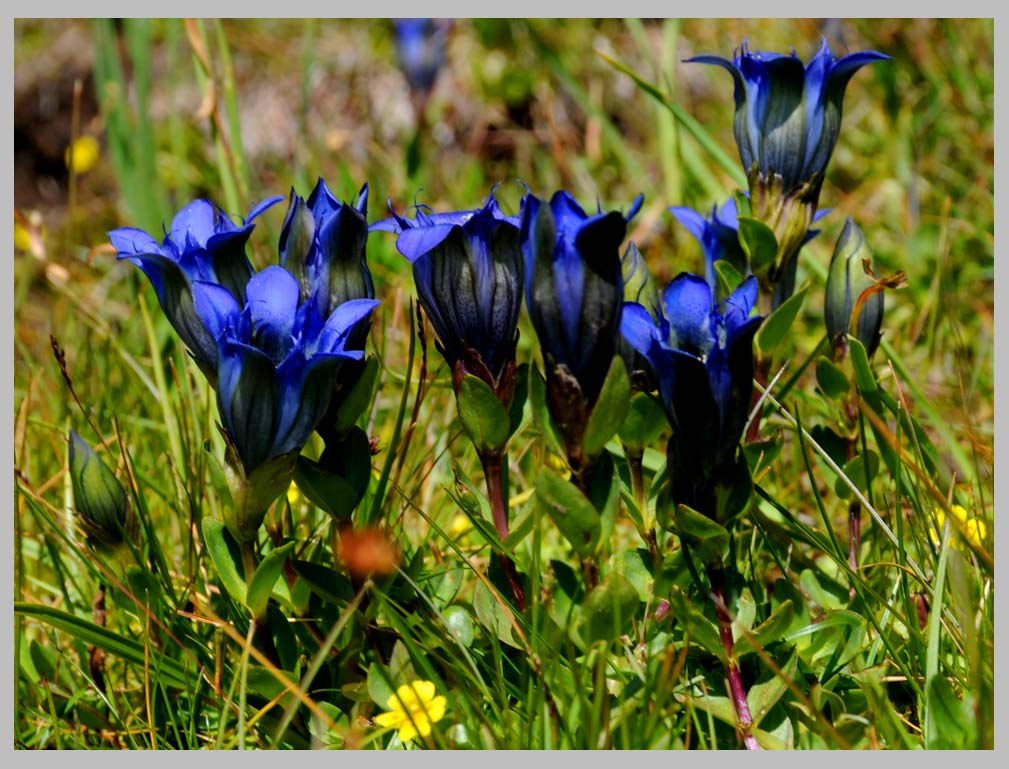 Bog or Explorer's Gentian, (Gentiana calycosa), [ click photo for next . . . ]
Eagle Cap Wilderness


Bog or Explorer's Gentian is native to the High Wallowas
and the western United States. It is a relatively late
bloomer, one which we happily can yet find above 2000 m.
in wet bogs and meadows up until the return of snow and
cold night in mountain October. The color is unique.
Bog-gentian blue. (Notice how its brilliance wouldn't
work without the neutral green of the background grasses
and sedges.) With thick, opposite green leaves on erect,
short, reddish stems, it is a perennial, so once you
know it, you can return time and time again. Personally,
I take great comfort in such recurrent rhythms. Up here,
where life and the world seem to begin or have their
source, the mess we make of things further downstream
seems of little meaning, of little consequence. I also
take comfort in the highcountry indifference of beauty
in and of itself, beauty just is, and which asks nothing
in return. Beautiful, indeed.

The generic medicinal use of Gentiana, which I know well
from the Alps, is as an aromatic bitter. It is used
traditionally to stimulate appetite and digestion. I can
say that, after a stout swig of Gentian schnapps, made
from the rootstock of the Yellow gentian, you will
never forget it!




WIDER CONTEXT: Here's is quartet of images which might
give you a feel for the alpine habitat of Explorer's Gentian . . .




On the road in the American Northwest.


FREEDOM—strangeloops


The one thing you never

want to take for granted

is the freedom

which allows you

to take freedom

for granted.






DIGGER OF POTATOES




Upon having reached a broad plateau
still a good mile above the valley floor . . .

There are people here! And
a road! Small houses!
And look there, fields!

After weeks of cold, snow,
and steep rocky faces, paradise
is not easily passed by.

The three of them were bent
under heavy brown sacks of
potatoes.

The oldest man pointed up
towards where I had come from,
and asked, "A journey?"

I nodded, and said I had heard
that the women in a village near by
still made fine linen by hand.

The youngest, thick black braided
hair, smiled. Signs
that give a man hope.






(The Italian Alps
from ON PATHS
see below)

Please visit my picture-poems.com LIVING WATER
print gallery. Above is a set recent images.
(Mouse-over controls.)

I might just mention here, following the ethical principle,
First, do no harm, I never use cars or snowmachines. I
do everything on foot, bike or ski. I think this in a
deep and direct way affects my work, and how I see
the world. So all the photos above were approached
on foot, including all the in between spaces, sometimes
involving journeys of weeks or months.

I would not want to work any other way.



All Photographs & texts by Cliff Crego © 2011 picture-poems.com
(created: VII.25.2009)