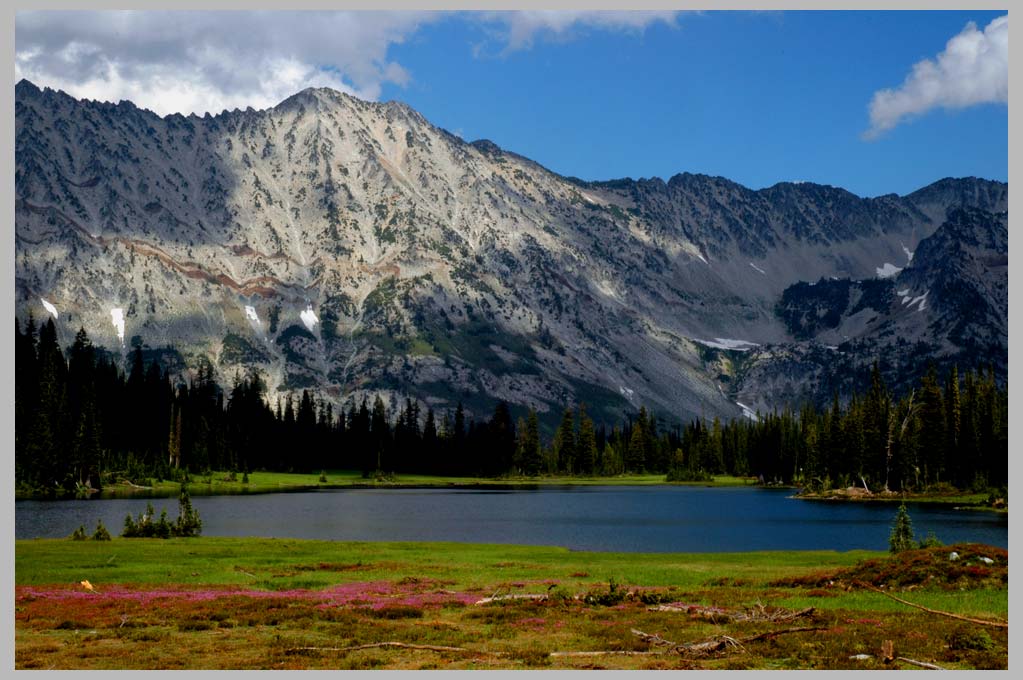 Hidden Lake, view East, Eagle Cap Wilderness—
(VIII.11.08) Alpine Lake at ± 2100 meters [ click photo for next / BUY prints online ]


The beautiful pink flower in foreground is the
Pink Mountain-Heather (Phyllodoce empetriformis),
a member of the Heather or Erica Family. See the
similar Western Bog Laurel (Kalmia microphylla)
below, which prefers slightly drier ground.
Pink Mountain-Heather is in many ways distinctive.
The botanical generic name can be traced back to the
tradition begun by Linnaeus of naming plants of this
genus tribe after sea goddesses. The specific name,
empetriformis, refers to the distinctive, alternate,
in-rolled pine-needle-like leaves, which are somewhat
similar to Crow Berry.





On the road in the Northwest of America.

Hidden Lake—a rhyming children's poem
in common time



for three young teachers
from Portland,
Susan, Scott & Phil






Water at rest wants to be round,
Clear crystal mirrors that hold and reflect,
The echoing waves of wind and sound,
A place to remember, love, and protect.

Water at rest wants to be pure,
So summer nights new stars can be found,
Upon its surface the planets seem near,
While songs of Toads and Thrush abound.

Water at rest wants to be round,
Clear crystal mirrors that hold and reflect,
The echoing waves of wind and sound,
A place to remember, and save from neglect.







Eagle Cap Wilderness,
Oregon, VIII.3.2008






THE LITTLE CLAVIER please preview 150 of 631 pages
w/ my black & white photography [opens in new window]













Featured gallery, mountain water . . . .

Please visit my MOUNTAIN WATER Gallery—some of
the best of my flowform photography w/ a selection of the highest quality
prints & frames . . . [ mouse over for controls / lower right fro full-screen ]












All Photographs & texts by Cliff Crego © 1999-2012 picture-poems.com
(created: VIII.7.2008)