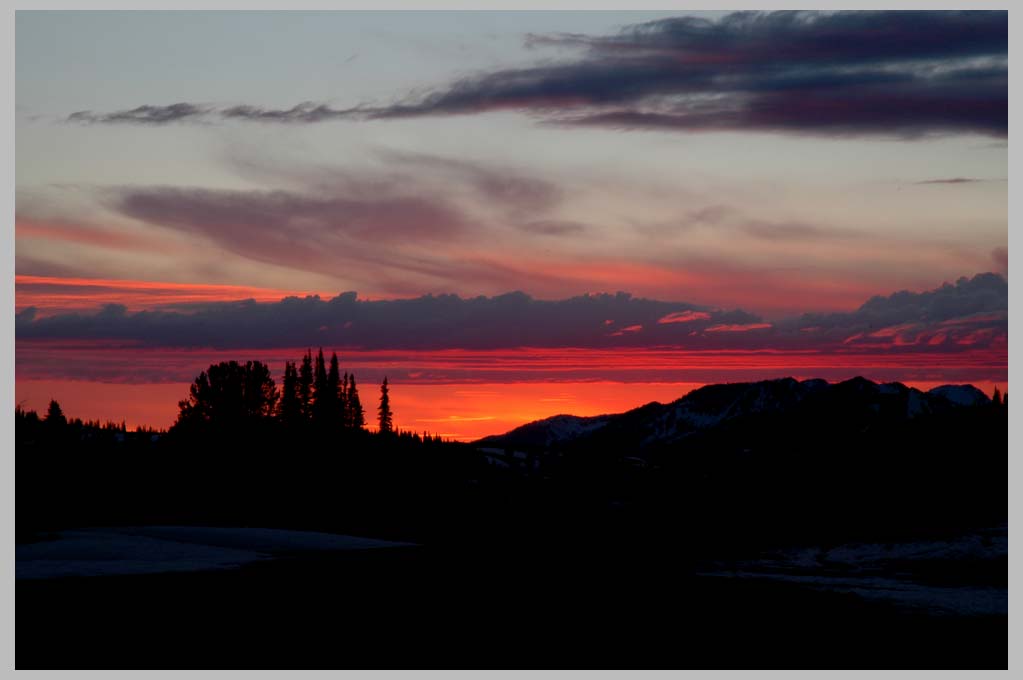 Last Light—Little Eagle Meadows, South Wallowas, Northeast Oregon [ click photo for next . . . ]


WHEN WHERE YOU CAMP, IS THE PHOTOGRAPH,
IS THE POEM

"Silence was never written down."
Italian proverb

One very great privilege of my small-carbon-footprint,
no-car, no-snowmachine lifestyle, is that I tend to
disappear without a trace into a landscape. It takes
me a long time to get places. Friends with snowmachines
and cars frequently tell me, "I can be there in 15 minutes!"
Well, that's true. But I always tend to answer, "You,
are not there. Your car is, but not you." We were not
made—this marvelously subtle instrument which is a human
being—to be moving at 100 kh through the world. If we do,
we do not really see reality. Rather, we see something
more like a film—a projection—of that reality. And
this projection is in my opinion full of noise and
distortion.

That is why I choose to walk.

Now, does this make a difference in how I write and
make photographs? I think it does. But that is not
why I do it. I do it beause it is ethically the right
thing to do. I do it because the land is, as a living
presence, the love of my life. I want to hear every
Spirit Thrush. I want to smell every Mountain Balm.
I want to get every bit of tension out of my body as
I slowly lug a heavy pack full of gear up and up and
up to what I know is sacred ground, a place, like the
visionary, Bucky Fuller, used to say, "Where you can
feel the Earth turn."

One last fieldnote about the image above: The treeform
with a full, rounded crown is a Whitebark or Stone pine.
If you're above 2000 m. in the Northwest, and yopu see this
shape, you are among the oldest living beings on the planet.
And if you are lucky and stay long enough, you will
also hear the Whitebark's close relative in symbiosis, the
raucous Clark's Nutcracker, that poet of seeds. The two
seem to be inseparable, just like the rhythm of walking
and a simple love of the quiet, good land.

On the road in the Northwest of America.




NIGHT WATCH


Flash goes the lightning.


In the tent, the air is calm

and the candle's flame is motionless.

Flash goes the lightning.


Outside the tent, the terrifying

sound of huge boulders swept away

by a river rising fast.

Flash goes the lightning.


In the tent, the air is calm

and the candle's flame is motionless.


(URNERLAND, The Alps,
from ON PATHS)


















All Photographs & texts by Cliff Crego © 1999 - 2013 picture-poems.com
(created: IV.27.2008)