The High Country Moor


...They say there are places so
powerfully peaceful and quiet, that,
if one were to play a properly tuned, long
wooden alpine horn in the right direction,
at the right moment, the sound of the higher
partials would carry over every visible peak
and beyond, and in some deeply forested,
remote valleys, not be heard for more
than perhaps a million years.
(11)

Bang goes the gun,
two grouse, females.
Like the hunters, camouflage
colors of dark, dry juniper and heather.

Startled, they always jumpstart
straight out into the valley air,

heavy, rapid wing beats,
then glide steeply down
and disappear,
just like that.

Tonight, ears ringing, gizzards full
of tart red mountain cranberries,
the light of a hunter's moon on
patchy snow, melted, then
frozen solid again.


Walking back up to the moor,
the sound of boots, heavy,
kicking steps too loud to bear...


Crunch goes the geode, mind
cracked open, for the first time,
the sight of amethyst stars.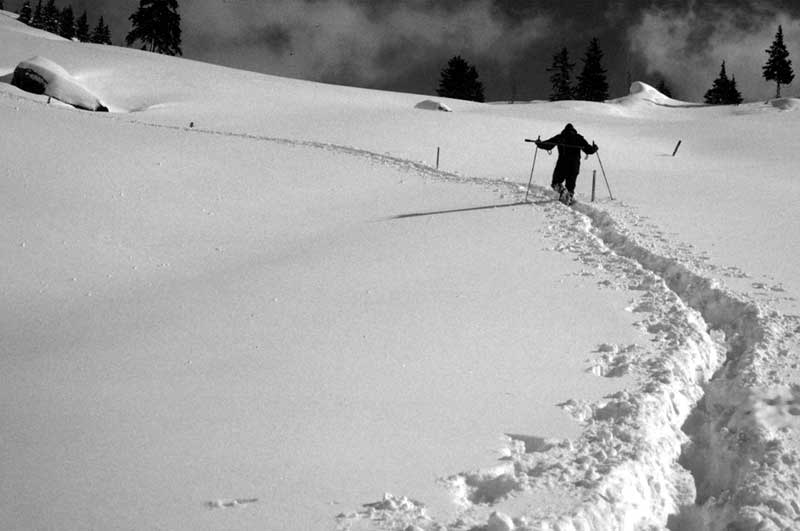 ---
(Photo: New Snow, Breaking Trail; the Alps. Even with skis or snowshoes, after three or more
feet of new snow, the going is very slow indeed.)
---
| see also the photograph, Rising Sun, Setting Moon |
---
| PicturePage Week VII | Table of Contents: Weeks I - IV | Table of Contents: Weeks v - VIII |
---
Photo/Texts © 1999 Cliff Crego
(Last update: XI.14.1999 )