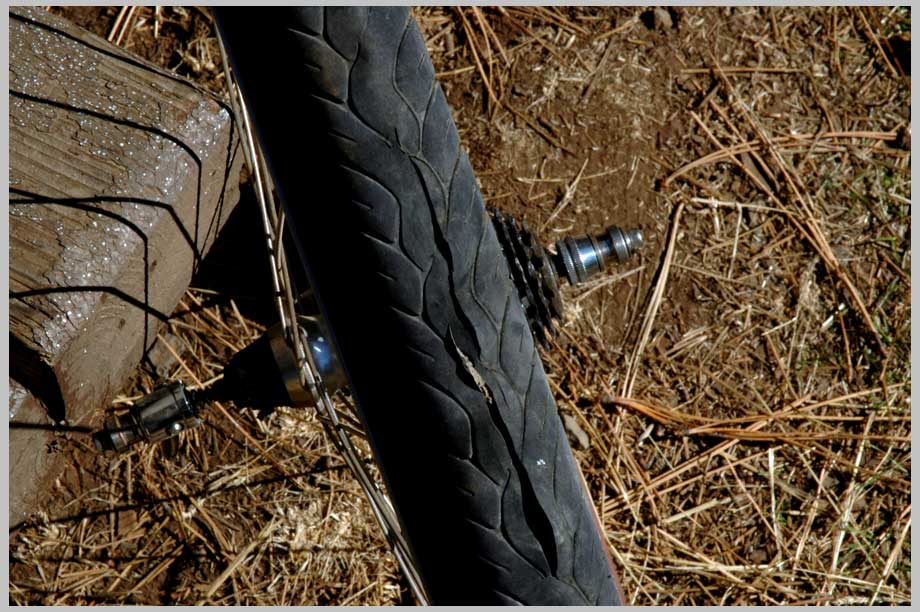 HELL'S CANYON, rear tire after Kleinschmidt Grade! Remarkably,
the tire did not go flat . . . Amazing, and lucky . . .—On the road
in the American Northwest.


Here is a little miniature that I frequently recite to myself when
dealing with wheel problems. Off-pavement travel, pulling a trailer
and carrying a lot of weight needs special care.

Note the use of the word 'true' here. When a wheel is 'in true' or
'runs true', English offers us a way to think about not just truth in
content, but also truth in function. I think that's language as beautiful
as the tension design of a mountain bike wheel itself:






Road of Change


Down the rough road of change, a wheel keeps

its true by centering in the clear intentions

of the motionless hub.





NEW: To view / purchase different sized prints of this image at the
PhotoWeek Store click here. view as SLIDESHOW |
[http://www.shutterfly.com/pro/cliffcards/photoweek]

---
| back to Picture/Poems: Central Display | go to P/P Photoweek: Archive |or go to last week's PhotoWeek pages |  
---
| Map | TOC: I-IV | TOC: V-VIII | Image Index | Index | Text Only | Download Page | Newsletter | About P/P | About Cliff Crego |

---
Photograph by Cliff Crego © 2007 picture-poems.com
(created: XI.19.2007)