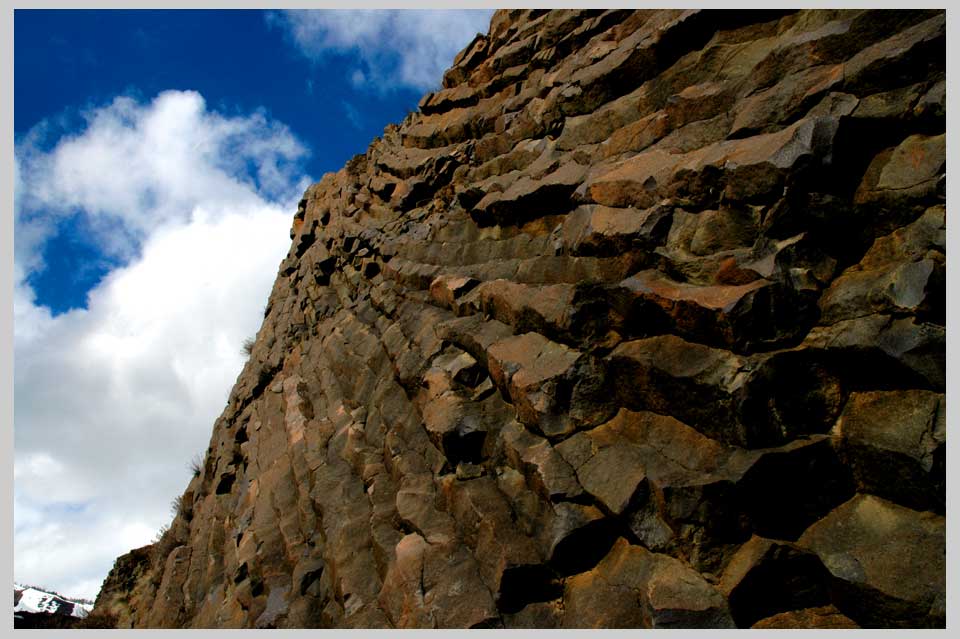 Vertical Lava Flowtubes, Snake River Canyon—Northeast Oregon / Idaho . . .
On the road in the Northwest of America.



The Passageway

Have you ever noticed
how the shape of the Earth
always seems to be asking us questions?

Sometimes she's just teasing us; others,
asking the most serious questions of all.

The way a trail folds into the gentle turn
of a hill, half a mile from a lonely shack,
each morning asking, "Is someone coming?
Is someone coming?"

Or a long day's journey over endless spring
snow and rugged scree,
an unexpectedgreen meadow,
small pond,quiet stream,
a soft-spoken query, hesitant, like a
shy young women asking,
"Aren't you going to spend the night?"

And further to the East, irresistible, pulling
one towards it like the edge of an airy cliff,
a huge V-like opening cut straight through
the high walls of a granite ridge,
"A way through to the other side?"

.....Perhaps.

The possibility of a passageway.

It's there.
Ever-present.
Massive—

written, in the rocks.



NEW: To view / purchase different sized prints of this image at the
PhotoWeek Store click here. view as SLIDESHOW |
[http://www.shutterfly.com/pro/cliffcards/photoweek]

---
| back to Picture/Poems: Central Display | go to P/P Photoweek: Archive || or go to last week's PhotoWeek pages |
---
| Map | TOC: I-IV | TOC: V-VIII | Image Index | Index | Text Only | Download Page | Newsletter | About P/P | About Cliff Crego |

---
Photograph by Cliff Crego © 2008 picture-poems.com
(created: III.17.2008)