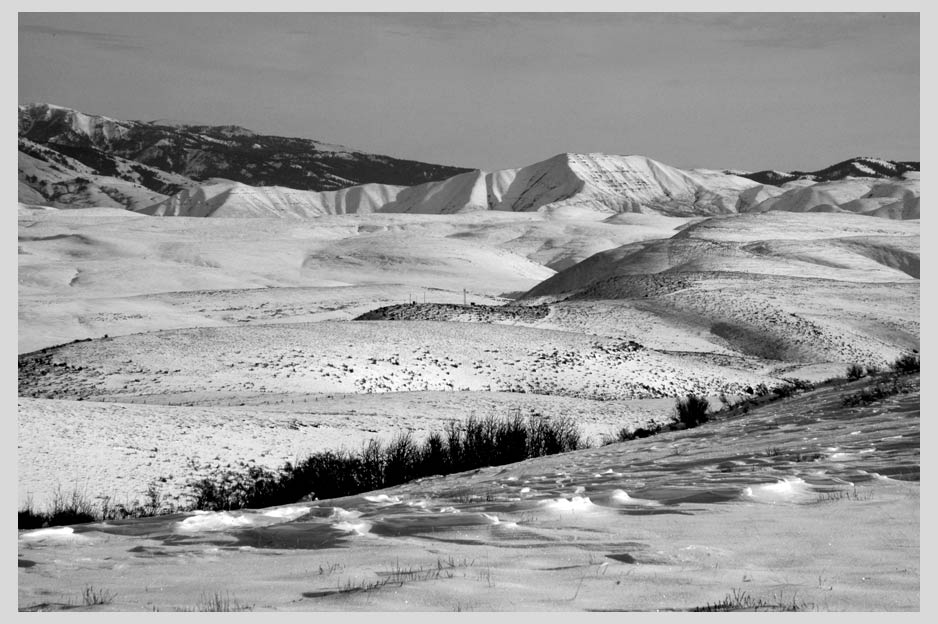 WINTER TOPOGRAPHY—diversity of shape & texture,
view Southeast from Summit Creek, South Wallowas—
On the road in the Northwest of America.

Topography as Language of Place


Topography is an interesting word. We think of topographic
maps, the ones with contour lines which display intervals of
elevation change. (In my case, because of all my years living
and trekking around the European Alps, I think of the Swiss topos,
which are not only hands-down the best in the world, but also,
in my view, great works of Art. As you might guess, I frequently
have occasion to mention this, traveling around the Northwest,
and people seem surprised. North Americans always tend to
assume that everything they do or make is 'the best there is,' but
I can assure you the American maps, when compared to the Swiss,
are thoroughly third-rate. Part of this has to with the cultural idiocy
of holding on tenaciously to a painfully outmoded feet + miles
system of measure; and part has to with the disappointing lack
of pride and energy one senses in North America generally for
grand projects of a collective nature of which map-making is
certainly one. But don't take my word for it. Get a Swiss map
and compare for yourself.) But we might also take the word
itself, topo-graphy, literally in the sense of its root meaning:
topo = place + graphy = writing. Ah, yes:—the writing, the art,
the language of a place. And these mountains—the Wallowas,
great Land of Winding Waters—are full of this writing, this
language. It is a writing, a language which speaks to us in
amazing contrasts, in an amazing diversity of shapes and texture.
Beautiful, indeed.

NEW: To view / purchase different sized prints of this image at the
PhotoWeek Store click here. view as SLIDESHOW |
[http://www.shutterfly.com/pro/cliffcards/photoweek]

---
| back to Picture/Poems: Central Display | go to P/P Photoweek: Archive || or go to last week's PhotoWeek pages |
---
| Map | TOC: I-IV | TOC: V-VIII | Image Index | Index | Text Only | Download Page | Newsletter | About P/P | About Cliff Crego |

---
Photograph by Cliff Crego © 2008 picture-poems.com
(created: I.6.2008)