(1)

Tuning:— it
was as if a light

were carried slowly,
in a measured way,
from player to player
to player,

a light passing on from the first,
the original, of all earth-bound fires.

Bright star burning,
not without passion,
not without ash.





(2)

It was the beauty
of the writing,— the
proportioning on the page,
that intrigued the scholars most.

They had only fragments, but
they had to be poems, dozens
of them, that much they knew,
they had to be.

They would count the letters, and
what appeared to be the breaks between
the words on a page. Patterns emerged.
And theories concerning meaning
were proposed and circulated.

And yet, it was the rhythm—the sound
of the words—we mustn't forget:
they had to be poems, that much
they knew—that remained a mystery.

As time passed on, the character of this
absent sound, of its spirit it could be said,
became a source not of clarity but rather
of great confusion to them, finding no
proper place in their lexicon of ancient
knowledge, in their hypothesised ars poetica.

And so at once they did, and yet did not,
notice that something was missing in their
rooms filled with learned yet
strangely mute—one could
almost say—disembodied,

conjectures.



| listen in RealAudio (c. 4' 15") |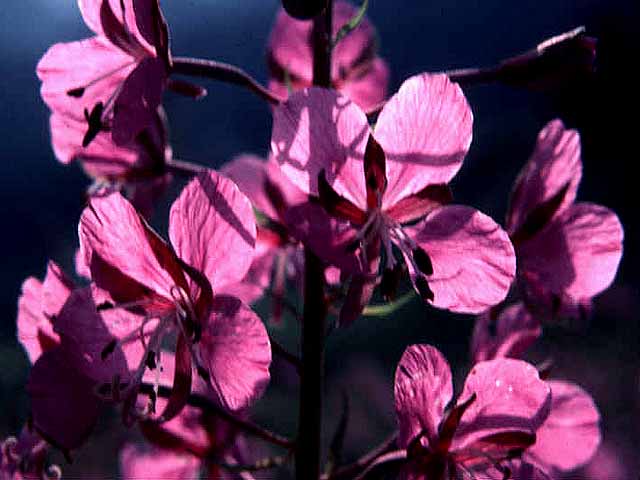 ---
(Image: Fireweed, late Summer: (Epilobium angustifolium) A circumpolar species, known for
its beauty, and for its being one of the first plants to reappear on burnt ground.)
---
Fireweed Poems-Songs of Love and Loss: A Cycle of 24 Poems

strophe: an order of movement which articulates itself into stanzas or groupings or clusters
of an irregular number of lines of irregular length; alternatively, in the original Greek meaning,
a complementary back and forth between the two sides of the orchestra.

katastrophe: the conflicting orders of movement of degenerative chaos and disaster; alternatively,
in the original Greek meaning, "the return to a point of rest and axial equilibrium of a lyre string
after it has ceased to vibrate," which is, therefore, once again in a state of neutrality.


---
| Romances: (3) and (4) | | listen in RealAudio (c. 4' 15") |
---
| Also from the same cycle: Departure Tree | Fireweed Poems: Part I | Fireweed Poems: Part II |
---
| go to Picture/Poems: Central Display |
---
| Map | TOC: I-IV | TOC: V-VIII | Image Index | Index | Text Only | Download Page | Newsletter | About P/P | About Cliff Crego |

---
Copyright © 2000 Cliff Crego
(VII.23.2000)