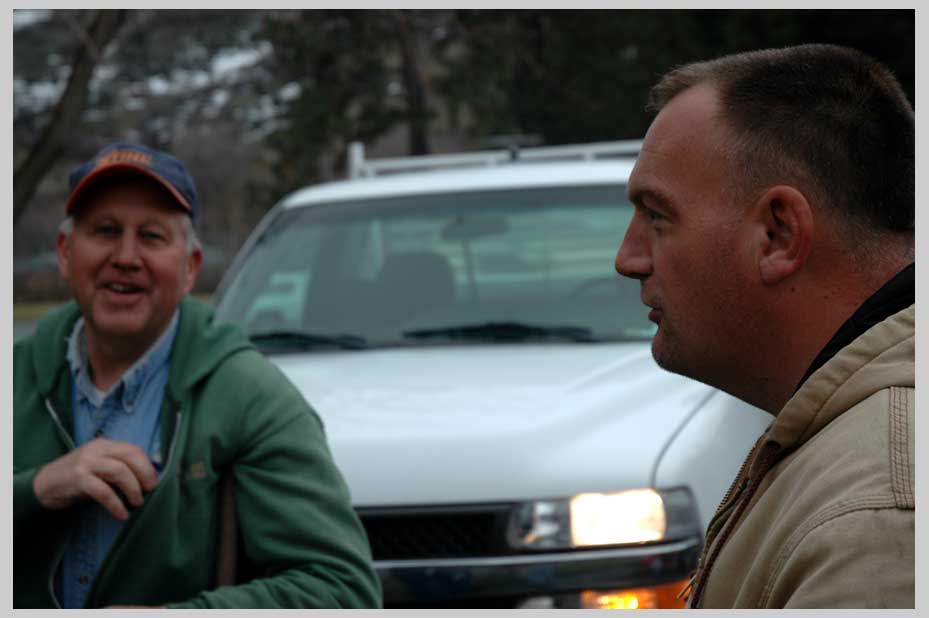 Dave & J.B. at Copperfield Park near The Oxbow . . . Dave & J.B are here
telling me about the depth of the winter snowpack (about 27 inches, more than usual).
And the extreme weather event of January, the 1st in 1997. There was a sudden
rise in temperature, followed by intense rain on top of the winter snow. The result
was a record-setting flood at the confluence of the Snake River (Hells Canyon
Reservoir) and Pine Creek. "You had to take a boat to Halfway!" [see image
below of highwater mark]
Northeast Oregon / Idaho.
On the road in the Northwest of America.









NEW: To view / purchase different sized prints of this image at the
PhotoWeek Store click here. view as SLIDESHOW |
[http://www.shutterfly.com/pro/cliffcards/photoweek]

---
| back to Picture/Poems: Central Display | go to P/P Photoweek: Archive || or go to last week's PhotoWeek pages |
---
| Map | TOC: I-IV | TOC: V-VIII | Image Index | Index | Text Only | Download Page | Newsletter | About P/P | About Cliff Crego |

---
Photograph by Cliff Crego © 2008 picture-poems.com
(created: III.17.2008)