Wayside 'Oregon Cactus' . . . Dry seed stalks of Common mullein (Verbascum thapsus),
an old friend of mine from Northern Europe. Mullein—known in the Netherlands as
King's Candle because it was once dipped in wax and used as torches—has for better
or worse become a naturalized weed of North America; it is indeed very common along
the rocky, disturbed waysides of roads, highways and railroad tracks. Mullein can now be
found all the way from the Atlantic coast to the Pacific. I like to call them 'Oregon Cacti'
because, in the second year of its growth cycle, it displays a perfectly erect
form, much like the fence posts that are most likely to be found near by.
Zumwalt Prairie . . .On the road in the American Northwest.

---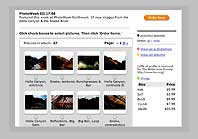 ---
| back to Picture/Poems: Central Display | go to P/P Photoweek: Archive |or go to last week's PhotoWeek pages |  
---
| Map | TOC: I-IV | TOC: V-VIII | Image Index | Index | Text Only | Download Page | Newsletter | About P/P | About Cliff Crego |

---
Photograph by Cliff Crego © 2008 picture-poems.com
(created: V.18.2008)