Walking the World: Making the Image Whole



Every mechanically reproduced
image of a natural world, whether it
be the photograph of flowing water, or the
recording of a violin, must to a certain
extent be recomposed by the viewer or
listener in order to bring it back to life.

The truer the reproduction, the
less we will have to do this.

In a way, this is rather like healing the image, which of course constitutes a
profound reversal of how, in the thousands of years we have walked the land
as a species, the sights and sounds of Nature have generally, without any special
effort on our part, soothed and comforted us.

This largely unconscious ability to 'make the image whole' does however
presuppose a long-standing intimate relationship with the original, or at least
a certain familiarity with, for example, actual streams or real acoustic instruments.

Tragically, children who are for whatever reason denied this primary relationship
with things natural can only with great difficulty recreate pictures or sounds in this
way. Theirs has become in part a 2nd-hand world of ghost images projected on
the proverbial walls of a high-tech cave.



---
Making the Image Whole is a part of Walking the World, a series of metaphysical essays which
explores the relationship between our thought or consciousness as a whole and how we think about
or perceive the world of Nature around us. The setting is the European Alps, where I've had
the opportunity to live for extended periods of time since 1982, and where many of the photographs
of this exposition where made. In the 18 journal-like essays of Walking the World, I'm on a long
mountaineering trek from the historic central Gotthard area of the Alps, through much of the Cristallina,
on to the Monta Rosa, the great Cervino (the Matterhorn), and then south, to Gran Paradiso.

To see a map of the watersheds of this area, go to AstheRiverRunsMap

For the Picture/Poem Display, I've excerpted passages from Walking the World which I thought
might complement the selected images. If you would like to read one of the longer essays in its expanded form,
go to Backpack Pilgrim... , or Week IV and The Devil Stands on the other Side.

---
| Map | TOC: I-IV | TOC: V-VIII | Index | Text Only | Download Page | Newsletter | About P/P | About Cliff Crego |
---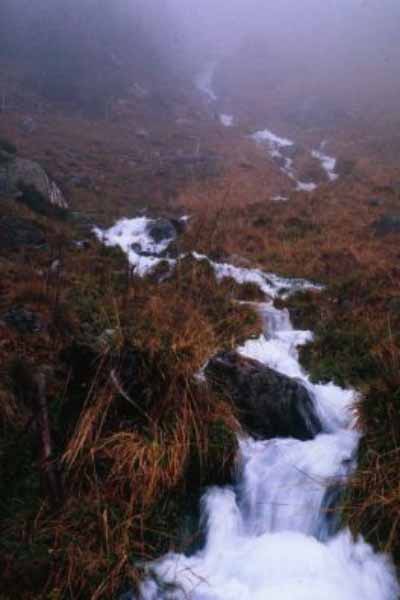 ---
(Photo: Mountain Spring in Fall: constant flow; constant temperature (c. 6 degrees C.),
covered with six feet of snow, six months of the year.)
---
| go to Picture/Poems: Central Display | PicturePage: Week III |
---
| Map | TOC: I-IV | TOC: V-VIII | Index | Text Only | Download Page | Newsletter | About P/P | About Cliff Crego |

---
Texts © 1999 Cliff Crego All Rights Reserved Comments to crego@picture-poems.com
(Last update: XI.30.1999 )