Of Birds and Trees

Strong chinook winds have driven me
inside. From my window, I see
a young male blackbird, its eye rings
still dark, perched on a mountain ash.
The tree, also young, is leafless,
but bright red clusters of berries
grace its bare limbs like ripe ornaments
for a festival of fall.

The tree, the bird, swing back and forth
to the wind's irregular rhythm.
The bird's neck extends and shortens,
easily keeping his balance.
Eyes so alert, the head bends down,
first slowly, then quickly snatching
a little fruit, swallowing it
whole. Then he's off, another tree.
Birds don't stay long in one place. Or
is this just the way of birds and
trees? One must do the work of
staying put, roots firmly grounded
in rocky soil, new fruit each year;
while the other, flying freely
to unknown places, carries with
him the seeds of falls yet to come.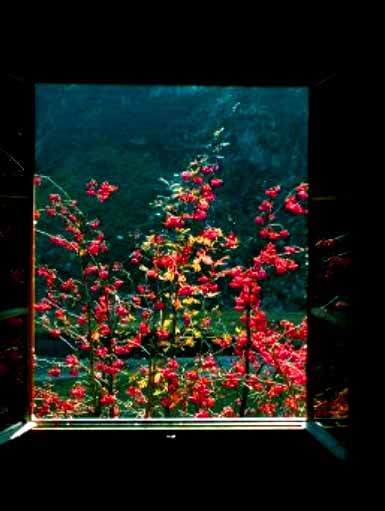 (Photo: Mountain Ash, South-facing Window; (Sorbus aucuparia) The Alps;

Click on window to see The Open Window, November and December)


---
| go to Picture/Poems: Central Display | PicturePage: Week V |
---
| Map | TOC: I-IV | TOC: V-VIII | Image Index | Index | Text Only | Download Page | Newsletter | About P/P | About Cliff Crego |

---
Texts © 1999 Cliff Crego All Rights Reserved Comments to crego@picture-poems.com
(created: XI.30.1999 ) (Last update: III.7.2002)