The High Country Moor


Gold sometimes longs
for its silver;

And silver sometimes
longs for its gold.

Who among us does not
long for both?
(10)

The broad, sweeping arc of the late fall moon,
stretching the fine lines scrathced into the smooth,
polished granite surface, left behind by
retreating bodies of ice;

One wonders— How many moons had to pass
over empty measures of mineral silence until
the green mossy plants found their way back
to this place?

Gray on gray, almost dark, clouds sinking
into a sea of rising mist and dragon shapes,

many threadlike paths feel about the moor and
simply vanish, like questions picked up for a while
and then dropped for no apparent reason;

Center of centers,


a small tarn, one of many pools,
frozen now in a thick layer of blue ice,
snow not quite reaching down to here from
the winter mountains above;

At water's edge, a single sedge stands guard;
sharp blade of leaf, ignoring the shiny green
of dwarf pine, it does not mourn the loss
of the summer's quiet reflection;


Cold, wind still, a bit lost,
but what does it matter,

the way only goes down from here.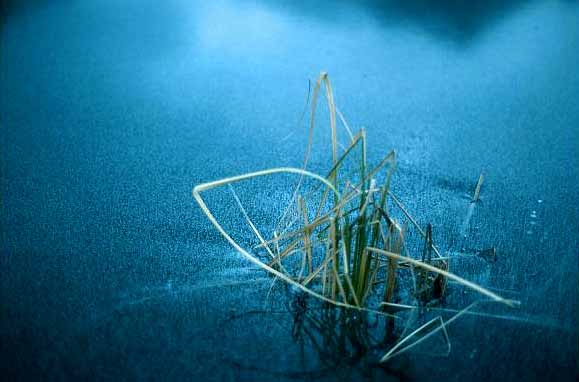 ---
(Photo: Sedge in Ice; Small tarn at 1900 meters, the Alps)
---
| go to Picture/Poems: Central Display |
---
| Map | TOC: I-IV | TOC: V-VIII | Image Index | Index | Text Only | Download Page | Newsletter | About P/P | About Cliff Crego |

---
Copyright © 1999 - 2002 Cliff Crego All Rights Reserved
(Created: IV.7.1999; Last update: III.4.2002)
Comments to crego@picture-poems.com