Ringing the Changes
at Candlemas

Perhaps empty time
has structure,
just as wood has a grain.

The central moments
of the natural year
manifest much like
springs chanced
upon in a journey
of a thousand miles.

How shall we
rediscover
and celebrate
such things?
Drifting, cold, deep snow everywhere,
filling all the unseen cracks in the houses.
The furry snow bunnies are meeting up on
winter mountain, and the priests have run
out of money and have all gone home.

The children light candles for each
star in the night sky while the
grownups drink hot coffee, sit at
the round table, and speak in earnest
of getting rid of all the tanks.

Heavy metal, slow metal, cold metal,
the sound of bells, thousands
of bells, swaying back and forth,
a wave of joyful sound,

passing on from city to city
to city, some say,
as swiftly as
the turning of the Earth itself.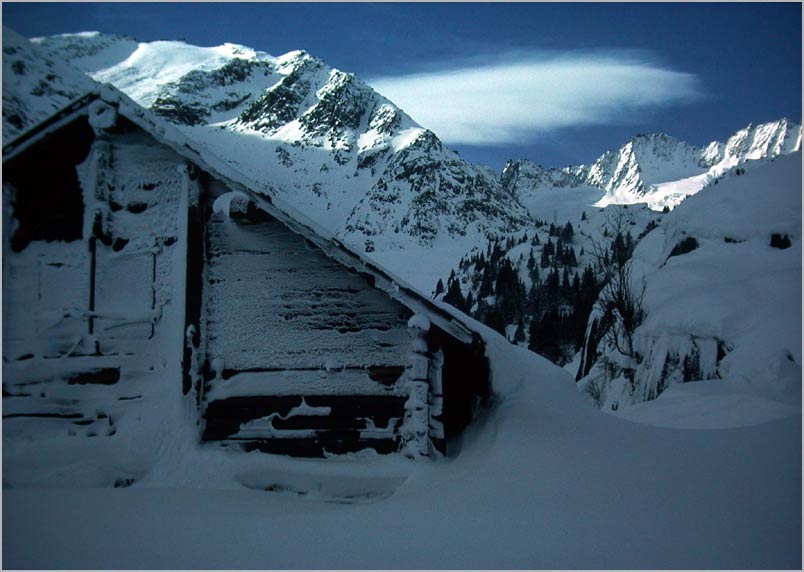 ---
(Photo: Sheep Barn after Mid-winter Snow Storm; The end of January, around Candlemas, or
the festival which traditionally marks the passage of 1/8th of the Solar Year.)
---
Ringing the Changes (listen to recording) is part of a double quartet of pieces which celebrates
the rhythms of the natural year. See also: November Snow; Winter Solstice; Calendar .
---
| go to the Picture/Poem
Poster of the above text:
Candlemas shown
at the right
(prints 81/2 x 11" (A4))
Also available as .pdf
download (60 k) |



---
| go to Picture/Poems: Central Display | go to Week VII: PicturePage |
---
| Map | TOC: I-IV | TOC: V-VIII | Image Index | Index | Text Only | Download Page | Newsletter | About P/P | About Cliff Crego |

---
Copyright © 1999 - 2002 Cliff Crego All Rights Reserved
(Created: IV.7.1999; Last update: III.4.2002)
Comments to crego@picture-poems.com