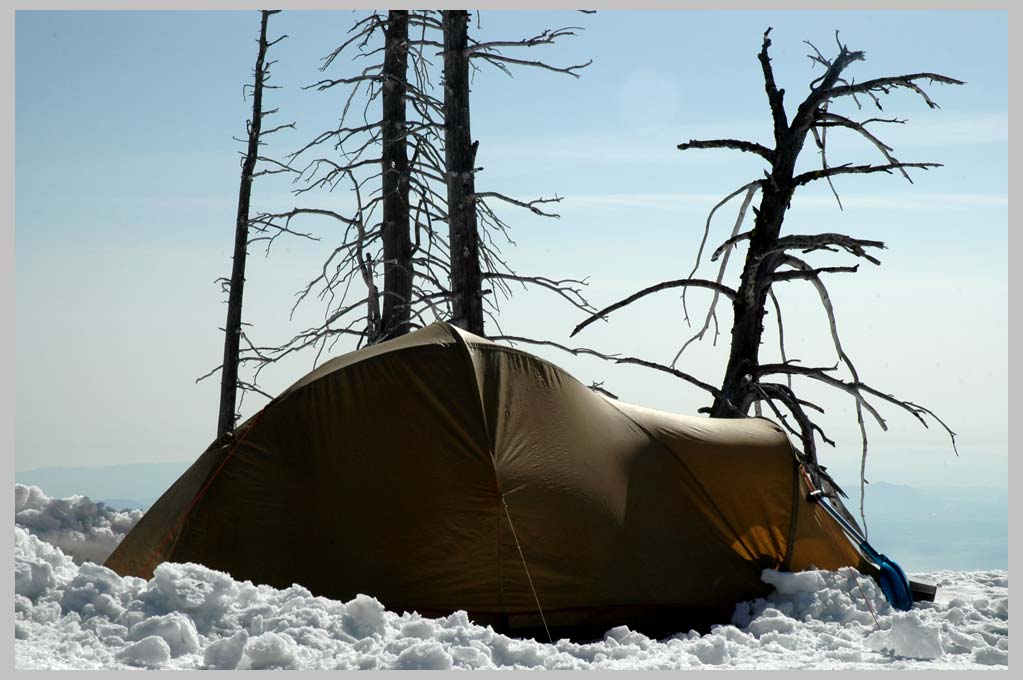 Black Butte—bivi at 1950 m. (6436 feet). . .


Black Butte, because it stands a bit east of the main volcanoes of
the Central Oregon Cascades, is one of the most extraordinary
viewpoints of the Pacific Northwest. The 3 Sisters to the south, all
the way to Mt. Adams to the north, can be seen on a clear day.

Black Butte also displays a beautiful, clasic, almost perfectly
symmetrical volcanic cinder-cone form. This form, when seen at
a distance from the east, awakens I think a powerful sense of the
primeval in the beholder. One feels the power of the Earth's geology,
a power that resonates deeply with our own natural history.

An interesting footnote to hydrologists: On this trek, I did several
circumambulations of Black Butte, on foot, bike and snowshoes.
(In the last week of April, there was still about 1 1/2 meters of
snow on the summit.) I was greatly impressed by the fact that I
found not one creek or stream. Evidently, the vast amounts of
spring snowmelt were going straight down into the volcanic pumice!
I remember this because, having just come from a camp on the
Metolius River, up on Black Butte, I was back to my standard
winter routine of melting snow for water!





Central Oregon Cascades.
On the road in the Northwest of America.















NEW: To view / purchase different sized prints of this week's images
at the PhotoWeek online store, click here. Or view as SLIDESHOW . . .
ALSO: browse previous weeks at http://www.shutterfly.com/pro/cliffcards/photoweek


---
| back to Picture/Poems: Central Display | go to P/P Photoweek: Archive || or go to last week's PhotoWeek pages |  
---
| Map | TOC: I-IV | TOC: V-VIII | Image Index | Index | Text Only | Download Page | Newsletter | About P/P | About Cliff Crego |

---
Photograph by Cliff Crego © 2008 picture-poems.com
(created: IV.27.2008)