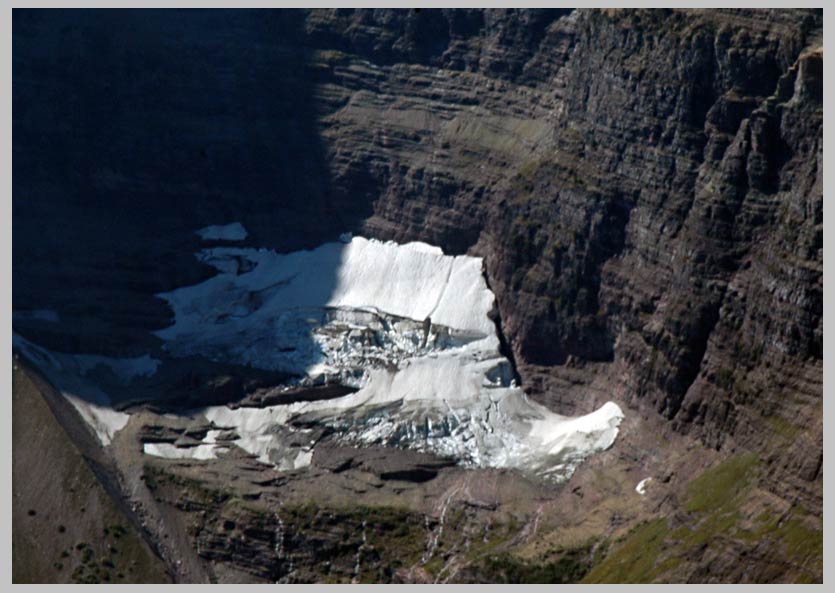 Glacier—vestiges . . . Just West of Continental Divide. Of the once 150
named glaciers in Glacier National Park, only about 33 remain. If
current conditions continue—higher temperatures, earlier mountain spring
and in winter, less precipitation and less of that falling as snow—this small ice
field will be gone within a few years. Vestigial traces of former size are seen
in the lateral moraines: lower left diagonal and upper right lighter colored
rock face, | click here or on photo to see outline of former glacier |
On the road in the American Northwest.











NEW: To view / purchase different sized prints of this image at the
PhotoWeek Store click here. view as SLIDESHOW |
[http://www.shutterfly.com/pro/cliffcards/photoweek]
---
| back to Picture/Poems: Central Display | go to P/P Photoweek: Archive |or go to last week's PhotoWeek pages |  
---
| Map | TOC: I-IV | TOC: V-VIII | Image Index | Index | Text Only | Download Page | Newsletter | About P/P | About Cliff Crego |

---
Photograph by Cliff Crego © 2007 picture-poems.com
(created: IX.15.2007)