The Twelve Primary Confusions

Nature knows no conflict,
no contradiction, no waste.

It is possible to say, therefore,
that the religious or spiritual life
begins not with any dogma or belief,
but rather with the deeply held intention
to live a life without conflict,
contradiction, or waste.
---

(1) The relationship and significance of human beings
with regard to the whole of creatura. Are we merely a fortuitous
accident of evolution, or is our being somehow an instrument
which holds and reflects the whole?;



(2) The nature of the living center of each individual, or what we
call 'the self', and the relationship of this center to the whole of life;



(3) The relationship of individual consciousness to consciousness
as it pervades the whole of Nature;



(4) The natural similarities and differences, large and small,
between the genders;



(5) The necessary unity of Art, Science and Religion;



(6) The necessary unity of learning and love;



(7) The source and significance of intelligence and creativity;



(8) The difference between mechanical and creative change and evolution;



(9) The difference between true complexity and that which is
merely unnecessarily difficult or complicated;



(10) The nature and meaning of natural birth and death;



(11) The nature of energy as it manifests qualitatively in the movements
of life and its relationship to all of the above confusions;



(12) The source of the form of but a single poem or flower.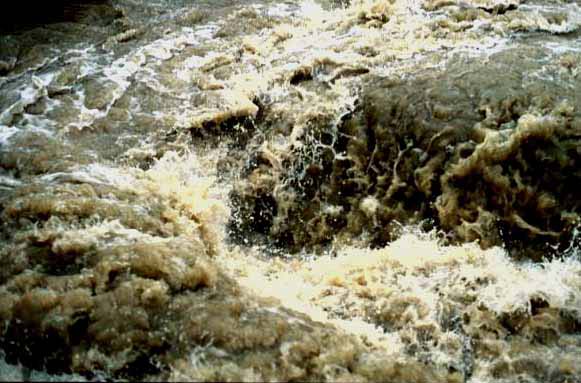 ---
(Photo: Extreme Turbulence, Glacier Melt Water, after intense fall rain)
---
| go to Picture/Poems: Central Display | go the the Picture/Poems: Archive of Miniatures | go to PicturePage: Week IV |
---
| Map | TOC: I-IV | TOC: V-VIII | Index | Text Only | Download Page | Newsletter | About P/P | About Cliff Crego |

---
Copyright © 2002 Cliff Crego Comments to crego@picture-poems.com
(created XI.26.1999) (Last update: III.6.2002)