Above
the Clouds:
Moving Up into
Mountain
Time
Slowly moving up the mountain.

Hard work. Left - right. Mind - in - boots.

All this massiveness makes me small,
pressing down on me,
but I feel the rhythm of my breathing
pulling the depths within
up into the lighter air.

Moving above the treeline,
time slows down
and lets more space flow in.

Opening up into pathless land,
rocks and summer growth
give way
to snow and ice,

two then three breaths
for every step.

Wind still --


that sudden
inrushing
of all directions,


and the movement moves into silence.

Tears freeze instantly
gazing out into all this
airy distance.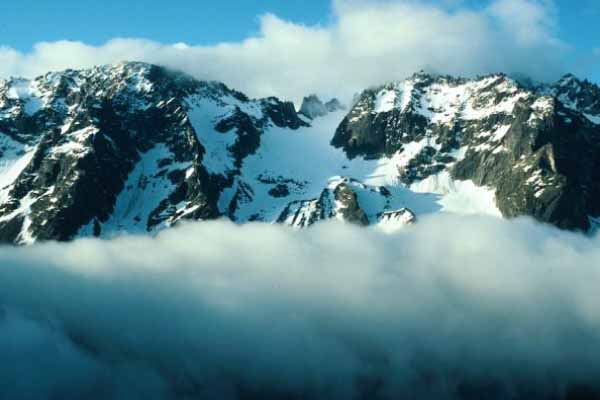 (Photo: Climbing Above the Clouds; An early summer ridgewalk at 2800 meters, the Alps)
---
| go to this poem's double, Flatland "Does one ever really arrive in Flatland?"
---
| go to Picture/Poems: Central Display |
---
| Map | TOC: I-IV | TOC: V-VIII | Image Index | Index | Text Only | Download Page | Newsletter | About P/P | About Cliff Crego |

---
Copyright © 1999 - 2002 Cliff Crego All Rights Reserved
(Created: IV.7.1999; Last update: III.4.2002)
Comments to crego@picture-poems.com